Martial Arts
Practicing martial arts builds strength, flexibility, coordination, as well as character.
It's also a lot of fun!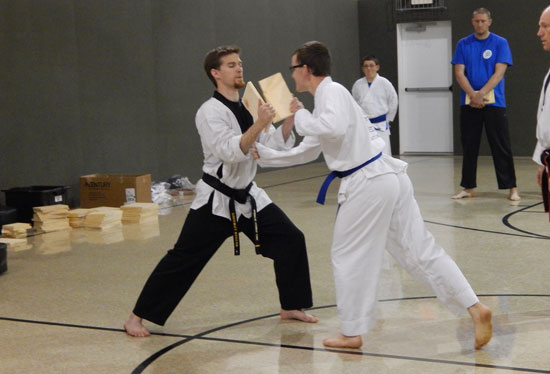 The martial arts class is taught in the gym at the Community Ministry Center by Pastor Nathan Edwards (2nd degree black belt). Kids and adults learn taekwondo forms and sparring technique, both self-defense and also self-control.
Our class is part of the Gateway Martial Arts school founded by Brian McNeill (7th degree).
Every Monday and Wednesday, 4:00-5:00 pm
(Warm up begins at 3:45 pm)
Mooreland Community Ministry Center
Signed waiver required for participation.
Uniforms are optional for white and yellow belts (roughly the first year), but are available to order through class for $30 (taekwondo-style v-neck uniform from Century). If you don't have a uniform, wear appropriate athletic clothing with long athletic pants (no jeans, please). No shoes will be allowed during class.
Classes take a break in December and June-July around the school year. Belt promotion tests usually happen in May and November.
Classes will always be free. Belt promotion testing in May and November for those who are ready and approved to test will cost $20 and include belt and certificate.
All ages are welcome. Students under 2nd grade require an adult to participate in class with them to help them keep up.
Contact us if you're interested.